With Hubspot, you can easily ask for feedback from your leads, prospects, and customers. You can then analyse the data with Hubspot and use this information to optimise your inbound service strategy.
You can use the following HubSpot feedback surveys:


Customer support surveys
Customer satisfaction surveys
Customer loyalty surveys
Closed Lost

To illustrate these four ways of asking for feedback, a case study from the company Saleshelden is given below. This is a telemarketing company for personal telephone services that focuses on the B2B market.
Customer support survey
With this survey, you ask the customer about the effort he had to make, for example, to communicate a change or to find information. In his assessment, the customer compares the effort to the result. This feedback is expressed in a Customer Effort Score (CES). It may be that the ordering of a product online always goes well. But if it takes the customer too long and requires too much effort, this will show up in a CES.
You use a Customer support survey to improve your service. You always ask for a contact moment in the here and now. You can fully automate this process in Hubspot. In doing so, each customer is presented with a customised CES question after a support ticket has been processed. See the example from Saleshelden below: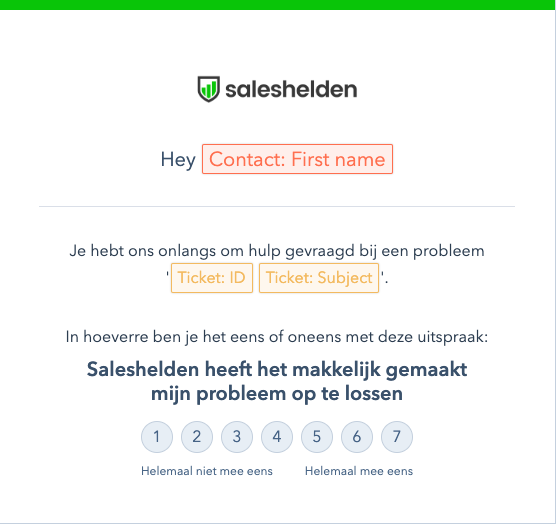 To keep it accessible, ask for a score. If necessary, you can supplement this with a request for a brief explanation. You want to use this information to optimise the service process so that you can help the customer as effectively as possible. Satisfied and loyal customers are your ambassadors in the Inbound strategy. Good service is thus the best advertisement.
Customer satisfaction survey
Another way to get feedback is the Customer Satisfaction Score (CSAT). This survey measures how satisfied the customer is with a product, contact moment, or other interaction with your company. You can present this survey on a web page using a form or via email. The customer satisfaction survey is very useful after, for example, the onboarding process. By asking customers how they experienced the process, you can work towards the ultimate experience.
Keep it short
Ask what their experience was by using three emoticons and always request a brief explanation:
Red means bad. Always ask the question: Can you tell us more about your experience so we can get it right next time?

Orange means satisfied. Sample question: Can you tell us more about your experience so we can do even better next time?

Green means euphoric. Sample question: Can you tell us why you gave us such a high score?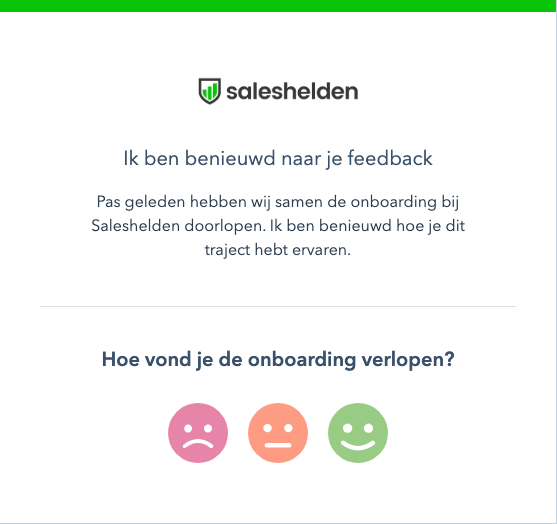 Customer loyalty survey
Another popular survey to measure general customer satisfaction is the Net Promoter Score (NPS). In this survey, you ask customers one question, which they answer with a score, often on a scale of 1 to 10. NPS is mainly used to measure loyalty and asks about a customer's intentions. Will the customer recommend your company to others or not?
The NPS has several advantages:
it does not cost the customer much time

it is easy to understand

it generates much response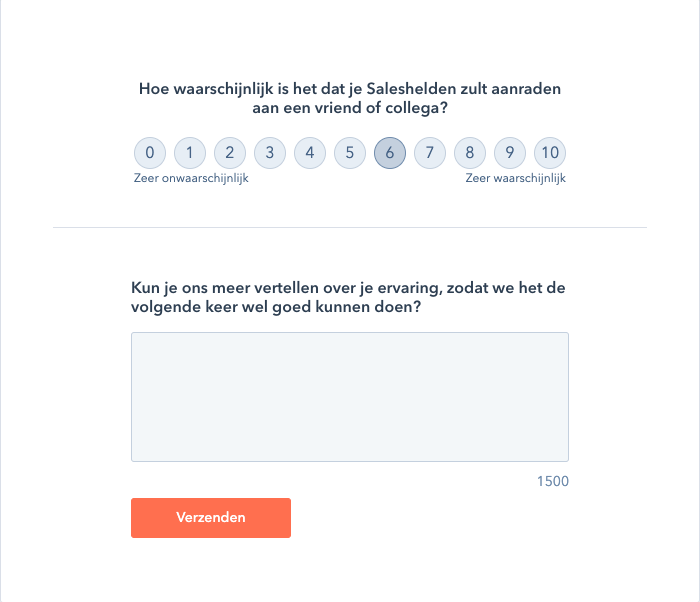 An NPS is presented to customers over time to ascertain what they think of you. You use the results to optimise your service process. After a bad NPS assessment, you can quickly take action and pay extra attention to the customer. That way, they feel heard. Therefore, Saleshelden asks the customer in the above NPS to describe in their own words what they are (dis)satisfied with.
Customers who give top scores will automatically share your company's name, service, or product with others. They are real fans who speak enthusiastically and positively about you.
Closed Lost
An example question is: How did you experience our service during the purchase process?
You have been actively converting a lead into a customer for months. Unfortunately, the customer chose a different service provider. Should you then give up? No, it may sound crazy, but a lost deal contains a lot of valuable information. With Hubspot, you can easily and automatically set up a closed lost feedback survey.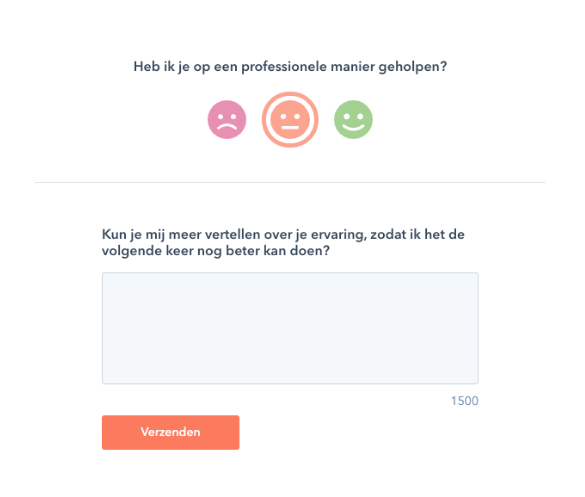 The survey helps you identify where and why the lead was lost during the purchase process. With the information obtained, you are constantly able to improve and adjust your strategy.