Do you want to have lunch with a prospect? Quickly hold a brainstorming session at the office? Until recently, it was the most normal thing in the world but, we now realise that meetings on location are not always possible. Yet, we want our business to continue as usual: it's time to reflect on video calls and webinars. Why don't we opt for face-to-face contact via our laptops more often with a delicious-smelling cappuccino within reach? With the Zoom video communication platform, you can easily make personal video calls, conduct team meetings from home, and invite prospects to interesting webinars.
HubSpot & Zoom integration
The Zoom video tool becomes even more powerful when you integrate this app into HubSpot. Why? Because you can store important data from video meetings in the HubSpot CRM. Furthermore, via HubSpot Workflows, you can promote all your webinars: from the first announcement to the last follow-up. Would you like to know who followed your webinar with interest, who remained involved throughout the entire process? With HubSpot, you can map this with precision afterward and convert your analyses into clear reports.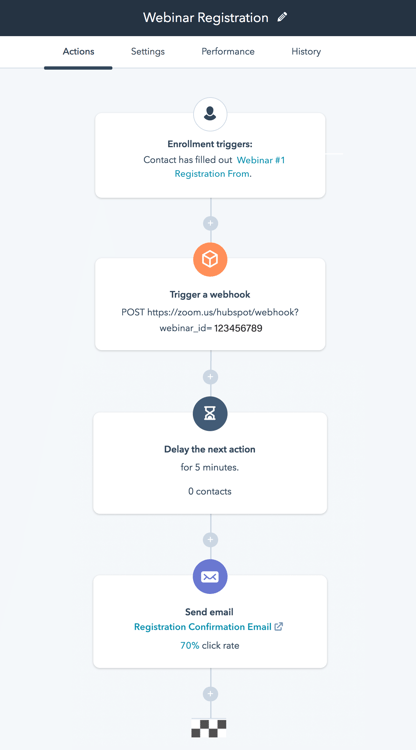 Zoom and HubSpot make it possible to communicate in a personal way with all your contacts. On a small and large scale! That is, of course, useful in times of crisis, but video conferencing is always easy to apply. Flexible working is the future, and communicating via video is easy, fast, efficient, and relatively cheap. This is especially true for organisations that have multiple locations, regionally or internationally.
HubSpot Meeting tool: an indispensable diary link
Are you tired of emailing back and forth to schedule an appointment? Then put the prospects in charge. Let them set a date in your diary online with the HubSpot Meeting tool, whereby your Google or Office 365 diary is continuously synchronised. That way, a prospect will know exactly when you are available.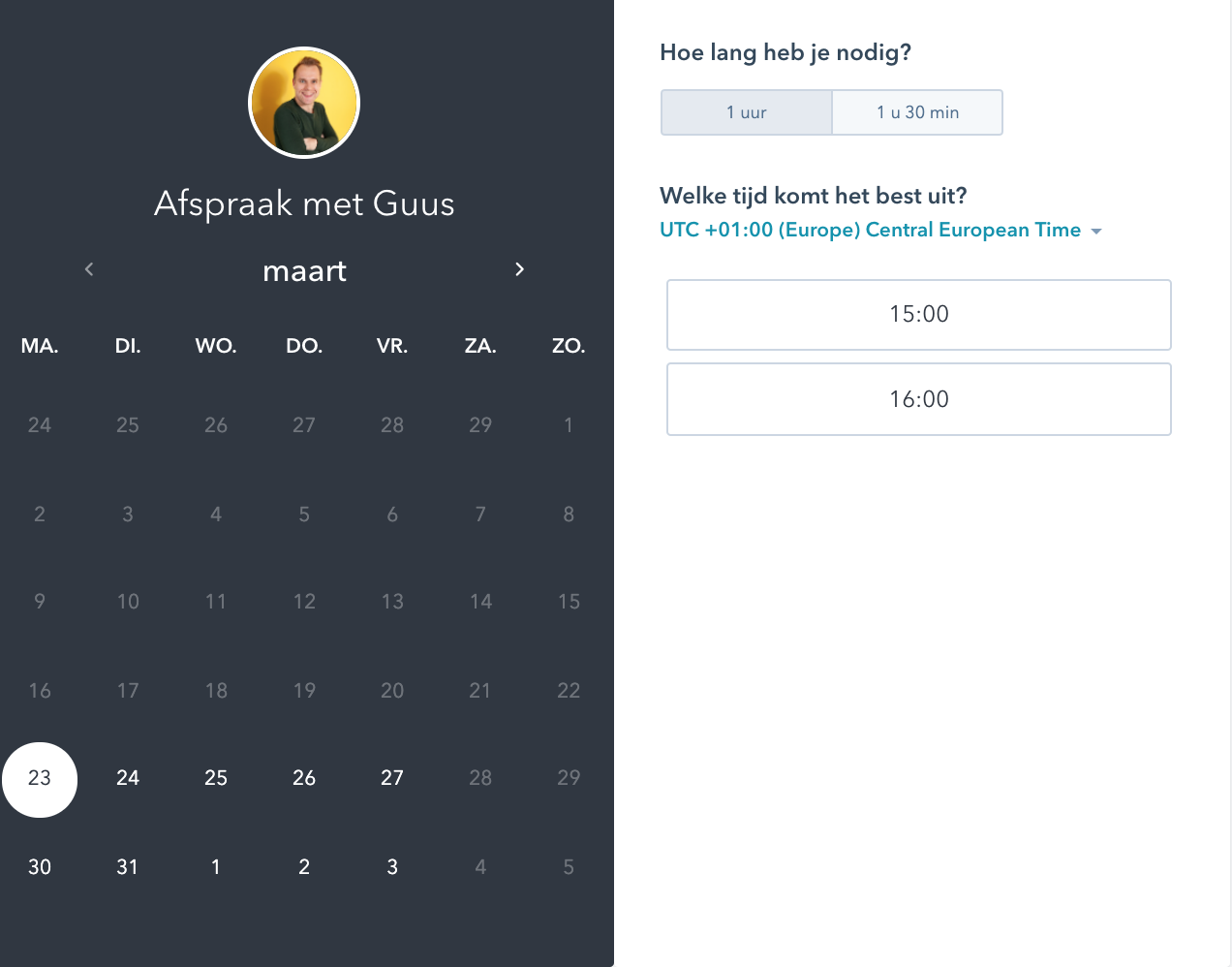 You can then automatically send an e-mail from HubSpot to your prospect with a link for a Zoom video call. And thus, quickly put your heads together without the risk of any miscommunications.
Fit webinars into your inbound strategy
The Zoom video platform, therefore, ensures a smooth-running webinar, but that is not all. Do you want to announce an event, confirm registrations, e-mail additional information, or send follow-ups afterward? In HubSpot, you first design a landing page for the webinar with a registration form. Then you announce the event via e-mail marketing and upon registration, redirect prospects to a personalised thank you page, while automatically sending a confirmation e-mail containing a unique link to join the webinar to their inbox. By designing a webinar campaign from HubSpot, you maintain your own company design that all your contacts recognise. HubSpot and Zoom make it possible to convert interested participants into customers.
Analyse & Optimise
You naturally want to investigate the impact of your webinars and improve the quality. Linking HubSpot and Zoom makes it easy to evaluate important actions of participants. How many registrations were there? Which registrants actually participated? Which contacts participated in the entire webinar, and who dropped out early? Based on these questions, you can segment the participant lists: which prospects are promising to forward to sales? Exceptional circumstances or not: video chats and webinars are rapidly gaining popularity and are here to stay. They are an essential component of a smartly designed inbound strategy. Zoom and HubSpot provide you with the tools needed to turn an ordinary webinar into an unforgettable web event.